We will be closed for Thanksgiving - Thursday through Sunday
We wish you and your pets a happy and safe holliday weekend!!!
Dr. Nancy O'Leary and The Worcester Cat Hospital and Bird Clinic's Staff.
Dear Clients, we have updated our post COVID-19 policy:
We will be open for scheduled drop-off appointments from 9:30 to 11:30 and for pick up from 3:00pm to closing Monday through Thursday (Saturday hours vary)
Note that our hours are subject to change. Please call ahead to be sure we are open.
Please place your pet in a secure carrier before arriving at our hospital.
If you arrive after 11:30 or before 3:00 we may be in exams or surgery so please call our office and a staff member will greet you at the door.
If you need to make special arrangements let us know when you make your appointment.
We welcome family members into our lobby for admitance and discharge.
Please label all personal items such as towels, blankets, toys, food, treats, and carriers and disinfect your carrier before dropping off.
We appreciate your following these guidelines and trusting us with your pet's care.
Dr. Nancy O'Leary and The Worcester Cat Hospital and Bird Clinic's Staff.
Welcome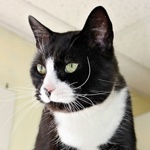 Worcester Cat Hospital and Bird Clinic has over 25 years of experience in caring for your treasured pets. You will receive expert care for your cats, birds, rabbits, ferrets, exotic pets & reptiles. We have extensive training in medicine and surgery as well as providing specialist services in Cardiology and Ultrasonography. We are also certified in Veterinary Acupuncture. For a full list of services, click Our Services link above.
We treat all our patients – and their owners – with the utmost care and respect.
Call or stop in today and get to know us. We are certain we can provide the healthcare that your pet needs and deserves.
Cats

Birds

Rabbits

Ferrets

Exotic Pets

Reptiles